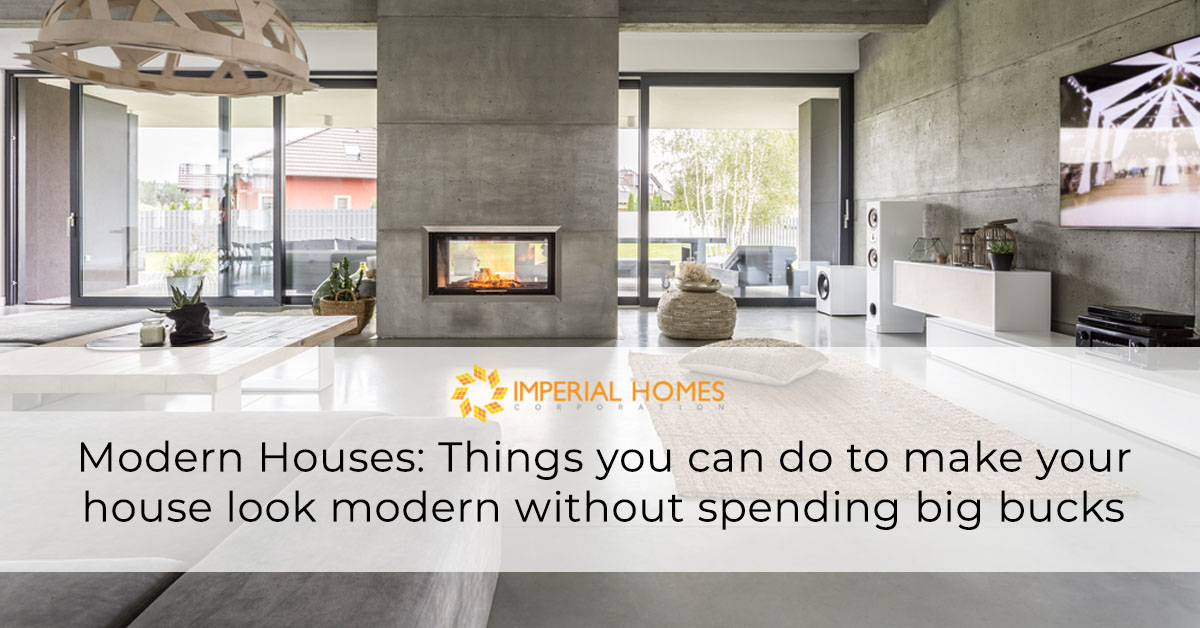 Your home decoration says so much a lot about the people living in it. That is why most people exert a lot of effort into redecorating their homes. Classy or minimalist style is the in-trend nowadays since it gives you the look of elegance and class. As fun as redecorating our own homes sound, many find themselves hesitating to do so because of the expense they might incur while redecorating. But what if we tell you that you don't have to spend big bucks in order to make your house look classy and elegant? Here are 5 tips and tricks that can help you redecorate on a budget.
         1.) Stick with a cohesive color palette
It's important that you commit to a color palette that you love and will not easily get tired of. Choosing the colors of your new home is also very crucial since this is where you will base all your other decors. For the look of elegance, you can either choose between bold and dramatic OR soft and understated hues. Painting your interiors black also gives off the expensive vibe minus the damage to your budget. It simply depends on your personality which color you will choose.
          2.) Lighting makes all the difference
You know how the correct lighting can change the quality of a photo? Well, it's the same for inside the house. Most contractors will suggest standard lighting fixtures but if you want to add the elegance factor, choose designer light fixtures. You can totally buy unique lighting fixtures in flea markets, bazaars, or old markets. You can even DIY some! There's definitely a lot of cheaper alternatives to do this.
          3.) Choose hardwood over carpeted floors
While it's true that wall-to-wall carpeting can make your home warm and soft, it doesn't exactly give an elegant vibe. Hardwood, on the other hand, gives a classic, elegant appearance while being much more affordable. Hardwood floors are a good investment because it lasts longer, and it gives you a higher value if you decide to resell your home in the future. You can opt to choose a darker wood color for a more luxurious appearance then add a few rugs to really tie up the room together.
          4.) Accessorize your home
Many would think that accessorizing their home is unnecessary, space consuming, and expensive. But there are so many ways to accessorize your home while staying under budget. Gold pieces always help make a room look more elegant as it is associated with wealth and riches. But you have to be careful in mixing and matching your pieces to avoid over-accessorizing. You may put up gold-framed mirrors, picture frames, or tables.
          5.) Always keep it clean
The best and most affordable way to make your home look elegant is by simply keeping it clutter-free. Weekly dusting and sweeping can make a lot of difference. Aside from aesthetic purposes, consistently cleaning your home is a way to avoid germ and disease build up that may be harmful to everyone living in the house. You can do a general clean up at least once a month to really clean and sanitize your space. Lastly, regular cleaning allows you to monitor your belongings; which one you don't need anymore, and which pieces you can allow to stand out.
Decorating under a budget can be a tedious task but it really is a fun one. It takes a lot of preparation, decision-making, and budget tracking, but the output will be totally satisfying especially after you've worked hard for it.
For more home maintenance tips, you may visit our website at www.imperialhomescorp.com.