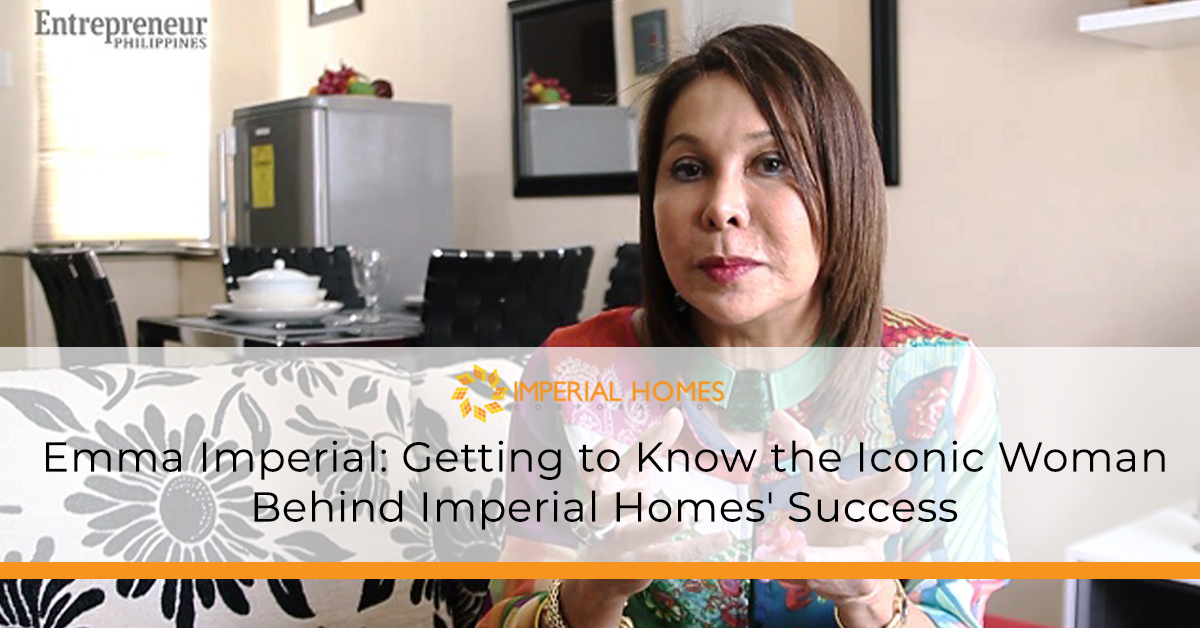 Everyone dreams of running their own company. Some people want to be their own bosses, while others stumble upon a business opportunity that isn't currently available in the market. While there could be numerous reasons why anyone would start their own business, they all have one common characteristic – they all provide the chance to finally build on your own dreams instead of someone else's. And that's exactly what happened to Emma Imperial.
Emma Imperial is the President and CEO of Imperial Homes Group of Companies. While she didn't start holding this position until the passing of her husband, she has always been passionate about the real estate industry. With over 30 years of experience, Emma has gotten to where she is, not just due to her skills, but also due to her dedication and positive outlook in life.
Most real estate companies focus their efforts on big developments that will rake in the most profit. However, Emma decided to prioritize low-cost housing projects that will provide more affordable housing opportunities for lower income earners. While it can be tempting to shift priorities to projects with bigger margins, Emma Imperial has stood steadfast in her mission to develop cost-effective homes for all Filipinos.
Imperial Homes Corporation can credit their much of their success to the courage and determination of their leader. Emma has not only been able to set up numerous low-cost communities, but she has also improved and disrupted the low-cost housing segment with her bold ideas and innovative solutions.
Just 5 years ago, Emma set her heart on developing the first mass housing community in the Philippines to be powered by solar energy. Via Verde, located in Sto. Tomas, Batangas, launched in early 2015 with the objective to deliver quality affordable homes, while giving residents access to renewable energy that could significantly decrease their electricity bills and their impact on the environment.
The project was so successful that it was recognized by the World Bank-International Finance Corporation, the Financial Times and International Finance Corporation (IFC), and received the World Bank's EDGE Certificate for Green Building – the first certificate given to a mass housing developer in the country.
Emma has proven that owning and running a business is anything but easy. It's well worth it – but it's definitely not easy. She has worked long hours in countless pursuit of her dreams and her vision for the Filipino people. Her company has built over 15,000 homes for low to middle-class citizens and she has no plans to stop anytime soon. She is the epitome of strength and resilience, and a true inspiration for all businessmen and professionals.
***
Photo Courtesy of Entrepreneur Philippines
For inquiries, feel free to contact us at (02) 807-8405 or 0977-8549632.