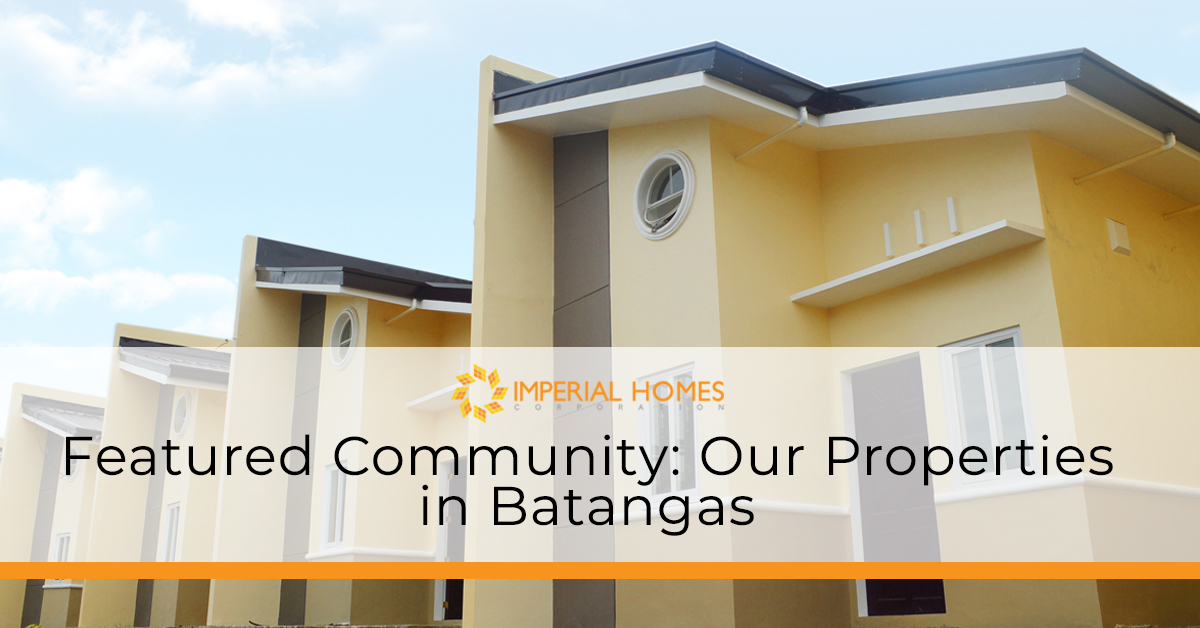 With Manila being over congested, locals are choosing to move further away from the city. In the last few years, there has been a growing demand for homes just outside of Metro Manila. More people are turning to areas in Calabarzon primarily because they still enjoy city living but at a more relaxed pace.
The province of Batangas is favorable for anyone looking for a comfortable home in a highly established area. Its strategic location at the southwest of Luzon Island provides easy access to business districts, educational institutions, health facilities, and commercial centers.
If you're looking for your next home at Batangas, check out these three residential communities by Imperial Homes:
Via Verde
Via Verde is the first solar-powered mass housing community in the Philippines. This housing project appeals to middle-class citizens looking for pocket-friendly investments that are also environmentally sustainable. Each home is on a 40 square meter lot with a total floor area of 36 square meters, which includes 2 bedrooms, 1 toilet and bath, and a spacious living, dining, and kitchen area. Despite the homes being low cost, it is equipped with a 500-watt solar panel to minimize household power consumption and reduce electric bills.
Located at Sto. Tomas, Batangas, this community guarantees first-class living to all its residents at low cost. Via Verde's home models are also globally recognized by the IFC/World Bank for meeting global standards for Green Building.
The Venetto heights
If you're looking for a residential community with more flair, then The Venetto Heights might be the right one for you. With lot areas ranging from 70 square meters to 100 square meters, this community is perfect for new or small families looking for their first home without a sky-high budget. The Venetto Heights has a contemporary design concept, which appeals to many modern homeowners. The site also provides scenic views of Mt. Makiling and is near two major roads – Maharlika Highway and Sampalocan Road – making it easily accessible from any destination.
The Venetto Heights provides a comfortable living for all types of people. Interested homebuyers can choose from two-story townhomes to one-story or two-story single detached homes, which bear all the necessities for an affordable yet cozy lifestyle.
Imperial South Meadows
Due to the increase of the industrial, manufacturing, and construction businesses in Batangas, more homebuyers are looking for affordable housing near the area. Imperial South Meadows is the community of choice for affordable quality homes. Located at Sto. Tomas, this residential community is designed with a Southern American concept with lot areas up to 70 square meters, and townhome floor areas ranging from 18 to 30 square meters.
Sto. Tomas is a prime choice for residents given its advantageous location near commercial, retail, educational, and medical establishments.
Imperial South Meadows is ideal for raising families in an affordable, yet comfortable manner. It is conveniently located near the South Luzon Expressway and is easily accessible through multiple modes of public transportation.
So if you are looking for the best quality yet affordable home, Imperial Homes has a wide array of properties that will surely suit your taste. Check out our various communities and contact us for more information!